As a business man, the primary ability is keen observation. When you see Nigeria is the biggest producer of cassava in the world, its production surpassing other major producers like Brazil, Indonesia and Thailand ( FAO 2013). So whether do you realize the huge potential for profitably to start cassava starch processing business in Nigeria?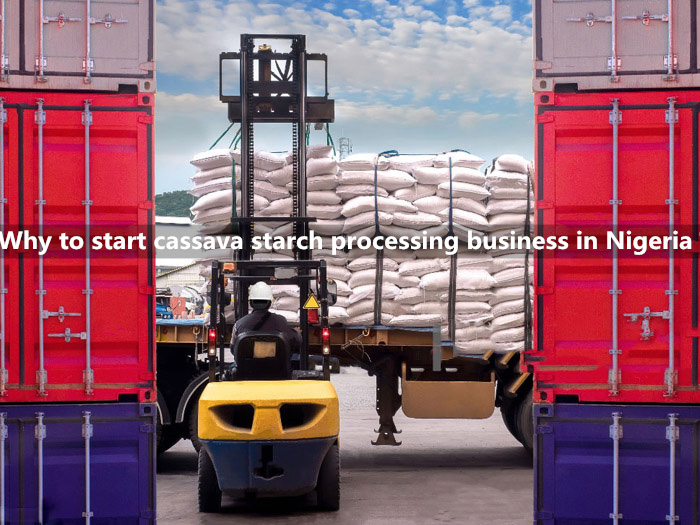 Why to start cassava starch processing business in Nigeria?
Abundant cassava raw material and lower cost
Cassava is the only raw material in cassava starch processing. In Nigeria, the climate is excellent for growing cassava. Nigeria is also the biggest producer of cassava in the world. So relatively speaking, the cost of cassava raw material is lower than other areas. That is to say, you can get more profit by saving cost.
Cassava in Nigeria.
The domestic market and international market have a huge demand
The domestic market demand: With the development of urbanization, the demand for cassava starch in Nigerian market is constantly increasing. Cassava starch is widely used in food, paper, textiles, adhesives, beverages, confectionery, pharmaceuticals, and building materials. According to a memo obtained by the Guardian, Nigeria currently imports 96 per cent of starch as local demand of 600,000 tonnes could not be met. It is proved that it is profitable to start cassava starch processing business in Nigeria.
The international market demand: You can increase your income by exporting.
The use of cassava starch.
Government promotion increase the demand of cassava starch
The Role of the Government can primarily be the provision of an enabling environment in infrastructure especially cheap electricity and other energy sources, favorable investment climate and the implementation of policies supporting the development of a viable competitive cassava industry. For example, the African Cassava Agronomy Initiative which has received $14.4m in funding from the Bill and Melinda Gates Foundation. It's aims to support cassava production in Nigeria and four other African countries. That is to say, supporting cassava growing will give you a boost in your cassava starch production. In addition, the agriculture department is promoting the use of cassava in bread instead of wheat. It increase the demand of cassava starch. It makes you have a more
The final cassava starch.
Technological development increase the output of cassava starch
You should firstly consider the yield when you have enough cassava raw materials in Nigeria. The type of cassava starch processing is traditional manual operations morely in Nigeria. With the development of techonology, the manual operation is out. So if you have advanced technology than others, you can improve efficiency and boost production so that you can get a more huge market. More production means more profit you can get. With the development of technology, the DOING company is advance with the times and have a positive change. We can offer high quality cassava starch processing machine for you. It can ensure there is a shift from traditional to industrial type processing and let you have a commercial cassava starch processing business to make you get more profit.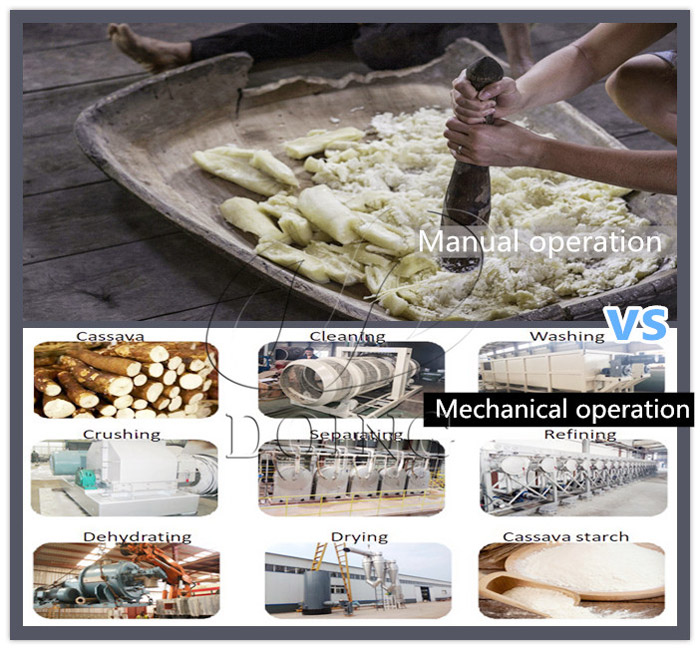 Manual operation VS Mechanical operation.
Certainly, there are more other reasons to start cassava starch processing business in Nigeria. As a business enthusiast, which of course am hoping you are, this should be an opportunity to create wealth for yourself. I wish you can seize the opportunity while the cassava starch market is not saturated in Nigeria. If you have any questions about cassava starch processing, you can contact us at any time, we have professionals answer to you.